Our product has the same effect as the video, if you are not satisfied when you receive it, we can give you a refund at any time.
😍 96% Of Customers

Buy 2 Or More

 For Free Shipping😍

【EXCELLENT LIVE STREAM NANNY CAM】Just download the NEW app HDWIFI for your iPhone or Android phone. Now you are ready to view LIVE video on the App remotely from ANYWHERE in the world. Keep an eye on your home or office as a nanny camera.
【 Built-in Magnet】With the internal magnet, the hidden camera can be adsorbed on any iron surfaces. Perfect as surveillance camera in: Office, Home and Car etc.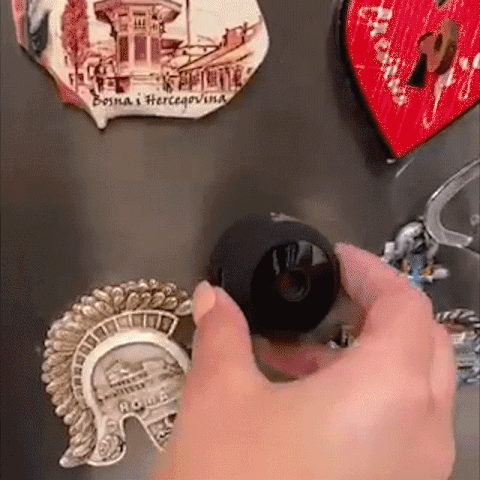 【RECORDING WHILE CHARGING SPY CAMERA】This mini spy camera comes with built-in high quality rechargeable lithium-ion battery. Besides,you can get the camera plugged to USB charger to have it stay on continuously. You'll have peace of mind knowing that you can watch over your valuables by live stream at any time.

【Works as a Normal Camera without WiFi】 One camera can support multiple users and one app can support multiple cameras simultaneously. This spy camera features hotspots so it can record without Wi-Fi too: just insert a SD card and turn on, the mini WiFi camera will auto record HD video files to sd card; It can also record videos even if the network is offline

Specifications:
Function: Support WiFi, Video, Camera, Infrared Night Vision.
Resolution: 1080P
Frame Number: 25fps
Visual Angle: 90 degree
Recording Range: 6m
Interface: MICRO USB Interface
Size:24*44mm
Package Includes:
1x Mini Camera
1x Bracket
1x Iron Sheets
1x USB Charging Cables
1x Instruction
HOW TO USE:

Customer questions & answers:
Question: Will the cameras WiFi still connect to my phone if I'm miles away?
Answer: Yes, But you need connect the Camera with your home WiFi first.
Then if you leave home , You can watch the video on your Phone.
Question: I need help.setting up the camera. Do i have yo have a sd card for thia too work?
Answer: This have a set up video on the listing , I think that can help you.
If you need record the video , i think you need a micro sd card ,
But if you just need watch the video on your phone. Do not need ...
Question: Is this 5G compatible?
Answer: No, 2.4Ghz,But the video is clear and smooth
Question: can i turn the mic off?
Answer: Yes, You can turn it off on App.APP named "HDWIFI".
Question: Is this magnetic? Does it need the holster to stay or can you use it without it? Does the wire need to be plug in for it to work?
Answer: They give you a small adhesive metal magnetic disc you can stick on it to make it magnetic. It does not need a holster. You can put it on anything. It does not need to be plugged in and the internal batter can last  long time.  they also support plugging it in to a power bank or the wall for long(er) term use.