Healthy, active plants come from healthy soil. Healthy soil can regulate plant growth and development across the board!
- Strong rooting
- Soil remediation
- Improve fertilizer efficiency
- Greener plants, sweeter fruits, and vegetables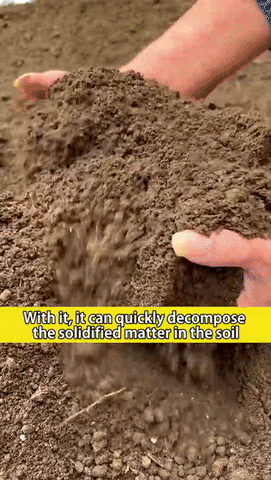 FEATURES
* Improve Plant Growth Environment
It is a high-molecular polymer, which can activate the compacted soil, improve the soil, reduce the salt concentration, and adjust the PH value.
* Fully Water Soluble, Easy To Absorb
It can be quickly dissolved in water, with a high absorption rate, and can be applied by watering or spraying. Enhance soil fertilizer water and fertilizer retention capacity, improve nutrient utilization, and promote plant root growth.
* Suitable For A Variety Of Plants
With scientific fertilization, plants are healthier. Apply to home gardening, foliage planting, ornamental flower plant, succulents, fruits and vegetables, crop planting, etc.
* Disease Prevention And Drought Resistance
Soil activators can play a buffering role, reduce the adverse effects of plant growth, have stress resistance, and can effectively increase plant yield and improve quality.

HOW TO USE IT?
01 Before Planting: Fully mix 250g of the product with 40kg of chemical fertilizer or fine dry soil, apply evenly to the ground, then water the ground. It is recommended to use 500g per mu of land.
02 Crop Growing Period: Dissolve 250g of the product in 400kg of water. Dissolve completely before application, drip irrigation, watering, and spraying.
03 Arid and Water-scarce Region: Mix the product with an appropriate amount of dry soil and spread it on the ground or around the plants before each rain or watering.
04 Seedling Period: Apply evenly to the soil at the ratio of 2g per square meter before seedling planting.
05 Home Gardening: Apply 1-2g of the product per pot at a time, or dilute 1000 times before watering.
(A small spoon is included, approx 1g/ spoon.)

SPECIFICATION
Net Content: 200g
Package Includes: 1 * Soil Loosening Essence Soil Activator
NOTE
Please allow slight measurement deviation due to manual measurement.
Due to the different monitor and light effects, the actual color of the item might be slightly different from the color shown in the pictures.