Upgrade your wardrobe with our Rib-Knit Dress. Chic and versatile, this dress comes in classic White and Dark Gray. Made with premium knit fabric, it ensures superior comfort all day long. Elevate your style effortlessly!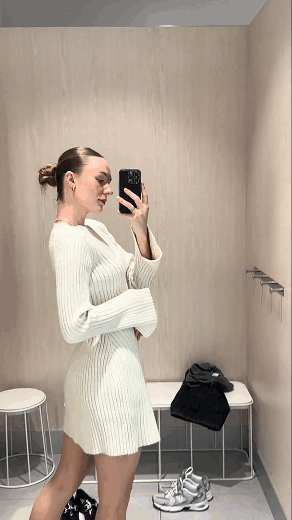 Fall Essential Jumper In Wardrobes
The rib-knit dress featured with round neckline, slit cuffs and gently dropped shoulders, gently flared dress adds a touch of sweetness in sexy, showing feminine charm in all aspect.
Simple But Trendy Design
Charming slim fit cut provides you gorgeous feminine look and reveals graceful female curves, long sleeves with flared modify arm line. Short, fitted dress in a soft rib knit with a fully-fashioned section at front and back, makes it flattering for a wide range of body types, perfectly balances comfort and sophistication with precise tailoring and fluid silhouettes.
Composition
Chic Combination
The cute rib-knit dress can be worn alone, or paired with blazer for a casual business office look. If you want something more chic, a pair of charm high heels, belt, neaklace and clutch can complete a feminine look for any occasion.
Experience the fashion versatile rib-knit dress, a timeless and trendy addition to your wardrobe that will make you feel confident and fashionable for any occasion.
Size Chart
Features
Long Sleeves
Slit Style
Round Neck