---
🌺Add classic, floral flair to any space or event with this artificial orchid bouquet!
🌺The flowers are well made and vibrantly colored - looks and feel just like real flowers, Pure natural style, simple and elegant.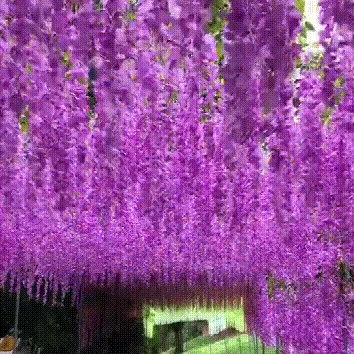 🌺Hang it from a windowsill planter, hanging macrame planter, or garden ledge for a perfect touch of romantic warmth.
🌺This bunch of flowers flows gracefully down from the main heart of the plant to create the appearance of overflowing abundance.
🎁Need No Sunlight And Water: Practical way to brighten dark corners and create dramatic table displays.
🌿🌵Simple Installation: Outdoor faux vine is easy to bend for hanging and take down, put directly into the basket or inserted in the soft object, add color and a sense of nature to the wall doors.Bring new life to your home and garden.
【High-quality Materials】:Made of fabric material silk cloth and plastic premium quality, poisonless and harmless, Like real flowers vine but not scented close to nature, could be reusable after your event.
🌿🌵Wide Range of Uses: Violet Silk Vine Flowers is perfect to create a romantic for any ceremony. Suitable for weddings, stages, parlors, bedrooms, offices, hotel, dining rooms, birthdays, Valentine's Day, stores private clubs, and any other place you want to decorate, Such as walls,doors, swings, and cafes, restaurants, and aisle ways, etc.
🌿🌵 【Craftsmanship】Artificial flowers and leaves, fresh color, The flowers never wither and fall, looks beautiful, soft petals, Leaf texture clear, shiny surface of the blade, vivid realistic and lifelike.
【About Size】Each Vine has 18 forks with many flowers and leaves, Hang down is 5, 60 cm, the total length is 85 cm.