The bedside LED light allows you to create a calming, peaceful atmosphere in the bedroom. Its built-in LED lights provide a soft, warm glow to create the perfect ambiance. The light painting feature adds a touch of luxury, producing a unique atmosphere in the bedroom.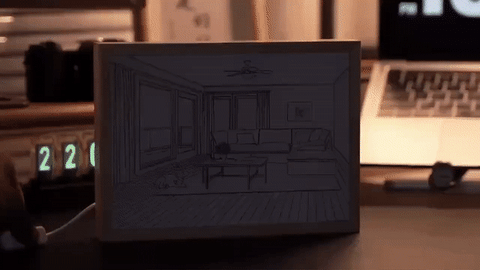 When light and art blend together, the enchanting charm of light paintings is born. We have carefully selected the finest light painting works to present you with the most stunning visual feast. These works not only illuminate your space but also bring endless inspiration and insights in the darkness.
They are more than just decorative paintings, they are a lighting art that creates a warm atmosphere.It can add a touch of romance to your busy life.
The soft, soothing glow of the LED lights can create a calming and relaxing atmosphere, making it ideal for bedrooms, meditation spaces or cozy corners. Not only that, but it also has adjustable brightness settings, allowing the painting to adjust to different lighting needs and moods.
LED lights bring a modern contemporary twist to the traditional art form, making it a perfect choice for people with a taste for innovative aesthetics. Furthermore, the artwork offers a unique and captivating viewing experience that sets it apart from traditional artworks.
The illuminated painting serves as a stunning decorative accent, enhancing the overall aesthetic appeal of any room or space.
Decent Gift in Any Situations
It offers designs for all of life's special moments whether you are celebrating a Wedding, Anniversary, Graduation, Mother's Day, Congratulations, Valentine's, etc.
Wide range of applications
It can be placed in most home scenarios, such as bedrooms, dining room, bathroom,kitchen,hotel, bar, and offices, allowing you to experience the art of light and shadow at home, brightening up your life and adding a touch of romance to it.
Function: decoration
Style: simple and modern
Size: A3 30x42cm / A4 21x30cm
Gift category: Creative gifts
Mounting method: wooden frame
Material: solid wood+acrylic. No fading, ensuring the durability of the artwork.