If you're tired of razor cuts, painful waxing or expensive lasers — our hair eraser is for you!
May we introduce: This is Rubby - A new way to remove hair, but without all the things you hate about hair removal!
No ingrown hairs. No pain. No stubble. No hair. No junk. Just smooth soft skin.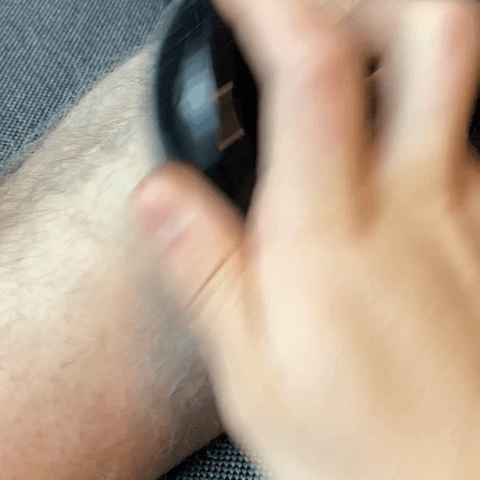 READY FOR SUMMER: SMOOTH AND SOFT SKIN
The best thing about Rubby: you easily remove unwanted body hair and give yourself a pleasant epilation at the same time. Hair and dead skin cells are removed. Result: radiant skin that you just want to show off.
NEVER CUT AGAIN - NO SKIN IRRITATIONS
Throw away your rusty and dirty razor! Rubby hair removal is more comfortable, healthier for your skin and completely cut free. Ingrown hairs & Strawberry Legs are now a thing of the past!

THIS IS HOW SIMPLE THE RUBBY WORKS
With the latest nano glass technology, dead skin cells and your hair are gently removed layer by layer, leaving only a small invisible tip of hair close to the skin surface (micro cuticle abrasion). This minimizes the risk of ingrowns and reduces the speed of regrowth! All you have to do is glide your Rubby over your skin in a circular motion. This rarely takes more than 5 minutes!
REUSABLE & SUSTAINABLE
You can save the cheap disposable razors in the future! Due to the antibacterial property, your Rubby remains reusable for up to 5 years. So you not only save a lot of money, but also do something good for the environment!
100% CHEMICAL-FREE: PERFECT FOR SENSITIVE SKIN
Your Rubby works 100% chemical-free and can be used completely without additional lotion / shaving foam. This saves you a lot of money, on the other hand you avoid allergic reactions to chemical hair removal!
BETTER FEELING - MORE BEAUTIFUL SKIN
Our claim: A long-lasting and caring hair removal easy and pleasant for you. For a better feeling when you go out and just a perfect glow up feeling after hair removal. Bring out the shorts, skirts or whatever again!
Perfectly suitable for:
Arms
Legs & buttocks
Back
Chest
Arms
Face
Delivery Contents:

1 X Rubby - Nano Glass Crystal Hair Remover

SHIPPING

After the order is processed, we will send them a shipping confirmation with the shipment number within the next 24-48 hours.

Satisfaction Checklist

✔ Over 10,000 happy customers.
✔ Secure payment via paypal, online banking, credit card and more.
✔ Free and trackable shipping.
✔ Tracking number for each and every order.
✔ We guarantee you 100% security during checkout.

Click "Add to Cart" to secure your order guaranteed before this item is completely sold out again.


100% MONEY BACK GUARANTEE

At Ardouryell.com we are confident that you will be delighted with your purchase experience. However, if you are not satisfied, you can return the item within 30 days of receipt and we will refund you the full purchase price!

For 100% security we use SSL encryption!

Update: Due to the increased social media attention, this product is only available for a limited time.